---
I may earn a small commission from links on this page, but I only recommend quality products I trust.
---
I've always always read anything I could get my hands on to do with aviation. There are so many amazing books about military aviation – from the early days of aerial warfare in the First World War, through the Second World War, the Vietnam War and to the present day.
I always find it so interesting to read firsthand accounts of the people that were actually there.
Below is a list of what I consider to be some of the best military aviation books.
What your favourite military themed aviation book? I'd love to hear your recommendations. [email protected]
Thanks,
Pete

Most of the books below are also available as audiobooks on Audible.com. I've been using Audible for a long time and highly recommend it. New users get one free audiobook with a 30 day free trial (which can be cancelled at any time).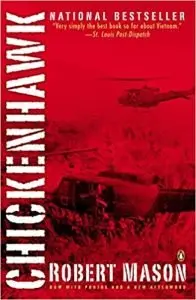 Paperback / Hardcover / Kindle / Audio CD
One of the first books I ever read about military aviation, it's no wonder over half a million copies have been sold. Regarded as one of the best books on the Vietnam War, Chickenhawk tells the story of author Robert Mason's personal experience as a Huey pilot in *. A veteran of over 1000 combat missions, Mason's description is equal parts thrilling and shocking.
The author shows great courage too in describing not only the battles he faced in Vietnam but also his own battles trying to reintegrate into society and the ultimate emotional cost paid by many helicopter pilots who survived the Vietnam War.
Why I recommend this book: To quote the Philadelphia Inquirer: "More than any other writer, Mason has been able to capture the feeling of what it was like to be there". One of the best military aviation audiobooks out there, Chickenhawk is required listening for anyone interested in the Vietnam War. This is a gripping and honest account of being a Huey Pilot in Vietnam and a classic of the time that must be read by anyone with an interest in helicopter operations in Vietnam.
Life's Too Short To Cry went undiscovered for many years and was almost lost to history. Fortunately this fascinating firsthand account of a WWII pilot who fought against both German and Japanese rivals was found.
This wonderful book is a memoir of Timothy Vigors (DFC). Originally raised in Ireland, and then educated at Eton and Cranwell, Vigors ended up flying bombers in France in 1940. After the fall, Vigors saw heroic action at Dunkirk and in the Battle of Britain.
At the beginning of 1941 he transferred to Far East as as a flight commander with 243 and then with 453 RAAF Squadron. In December of that year Vigors was tasked with leading a flight of Buffaloes to cover the sinking Repulse and Prince of Wales. He was almost burnt alive in his cockpit but manage to bail out, only for his Japanese adversary to return and try to shoot him as he dangled beneath his parachute. He recalled advice he had heard from another pilot, and began to climb up the ropes of the parachute – he was very lucky to survive that incident and was medically evacuated – first to Java, and then to India.
Why I recommend this book: This is a fantastic firsthand account of fighting, not just Nazi Germany but also Imperial Japan. A rare account told in vivid detail, Life's Too Short To Cry will have you on the edge of your seat and leave you wanting more.
First Light was actually one of the first military aviation books I read as a teenager – and to this day it remains one of the best. (September 2021: I'm actually currently listening to this as an audiobook and the narrator does an excellent job*).
The book begins two months before the outbreak of World War 2. While still at school, Geoffrey Wellum decides he wants to fly aeroplanes and so applies to join the Royal Air Force. Wellum describes his training in amazing details – from the highs to the lows. He describes initially flying the Tiger Moth before moving on to the Harvard to finish his advanced training. Wellum then going on to be posted to a squadron, becoming its youngest Spitfire Pilot.
The author has a way with words (if hadn't become a fighter pilot he would have made an excellent writer). You will feel as you're there with him in the cockpit of the Spitfire doing barrel rolls over Welsh countryside, on patrols over London or on bomber escorts over France.
Why I recommend this audiobook: This is truly a classic World War 2 account of the Battle of Britain. The author has a narrative gift and you will feel like you are right there with him. Highly recommended reading, especially if you're interested in a firsthand account of flying the famous Spitfire.
To The Limit was my second Vietnam War book in a row (the former was Across The Fence, which I highly recommend) that I finished recently. In it we follow the experiences of Tom Johnson, a Huey pilot in one of the most decorated battalions in the Vietnam war, the First Air Cavalry Devision.
In To The Limit we follow Johnson's story all the way from recruitment, through helicopter training at Fort Wolters all the way to heart-stopping battles for Khe San, Hue and the A Shau Valley. In one event after another Huey crashes into a lake in the pitch dark night, we follow Johnson as he attempts a frantic low-level rescue . It was so dark that night that he couldn't tell how far above the water they were – the only indication he could use was by telling his soldiers to dangle their legs over the side of the chopper and yell when they felt water.
Another very memorable experience happened for Johnson towards the end of his deployment during a massive assault on the A Shau valley. His was one of many helicopters shot down that day and he describes in frightening detail how they managed to survive for days in hostile territory, with the risk of either being killed by the NVA or by friendly fire.
Why I recommend this book: This was another fascinating firsthand account of helicopter operations in the Vietnam War. Johnson does a great job of making the reader feel they are right there in the cockpit with him – this is a really captivating and memorable book. Highly recommended!
Wings on My Sleeve tells the amazing story of World War 2 test pilot, Eric Brown.
His resume speaks for itself: 2,407 landings on aircraft carriers, the first carrier landing of a jet aircraft, 487 different aircraft types flown, survivor of 11 plane crashes and 1 sinking ship!
Brown was on a trip to Germany in 1939 when war broke out. Initially arrested by the Gestapo, he was freed without them discovering he was a reserve pilot with the RAF. On his return to England he joined the Fleet Air Arm and during his career he became a test pilot, flying more aircraft types that anyone in history. Brown was one of only a few German-speaking RAF pilots and in 1945 he went to Germany to flight test German aircraft and interview significant contributors to the war – including Hanna Reitsch and Hermann Goering.
Why I recommend this book: Brown had arguably one of the most interesting aviation careers in history making Wings on My Sleeve essential reading for anyone with an interest in World War 2 military aviation. With more carrier landings and aircraft types flown that anyone else, Brown has an incredible story to tell. Combine that with his interviews of captured Germans and it creates a truly riveting read.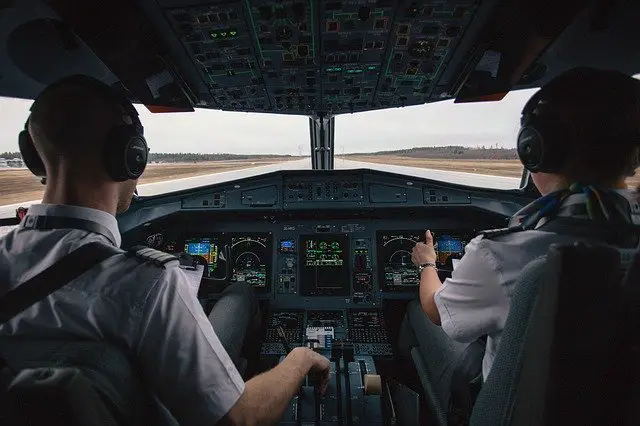 Pete has been flying aircraft for the last 20 years. He has flown everything from light piston aircraft up to heavy jets as both First Officer and Captain. He's currently enjoying life flying the Airbus A330 for a major international airline.