EICAS (Engine Indicating and Crew Alerting System) and ECAM (Electronic Centralized Aircraft Monitor) are electronic systems in modern airliners that monitor various aircraft systems (hydraulics, electrics, fuel etc.) and alert the pilots when a problem is detected. Additionally, ECAM and EICAS can assist pilots by displaying the relevant checklist needed to deal with the detected malfunction. 
ECAM is used on Airbus aircraft, while EICAS is the system used on aircraft such at the Boeing 737, 777 and 787, and also features on Embraer and Canadair (CRJ) aircraft.
What is ECAM and EICAS used for?
During normal operation ECAM (Electronic Centralized Aircraft Monitor) and EICAS (Engine Indicating and Crew Alerting System) display relevant information to the pilots on screens in the cockpit.

Information displayed include engine indications (N1, N2, EGT, Fuel Flow, Vibration etc.) together with other information such Outside Air Temperature (OAT), aircraft configuration (flap position etc.). 
ECAM and EICAS continually monitor the various aircraft systems and when a failure is detected they alert the crew and present an electronic checklist to the pilots.

Both EICAS and ECAM are backed up by the QRH (Quick Reference Handbook) which is a book containing paper checklists that is available in the cockpit.

The QRH is used is used in the case of the ECAM/EICAS failure, to provide more information and in case the relevant issue is not monitored by the ECAM/EICAS – for example, if the crew are considering and overweight landing they will refer to the QRH procedure.

Learn more about how pilots use the Quick Reference Handbook (QRH) to deal with system failures.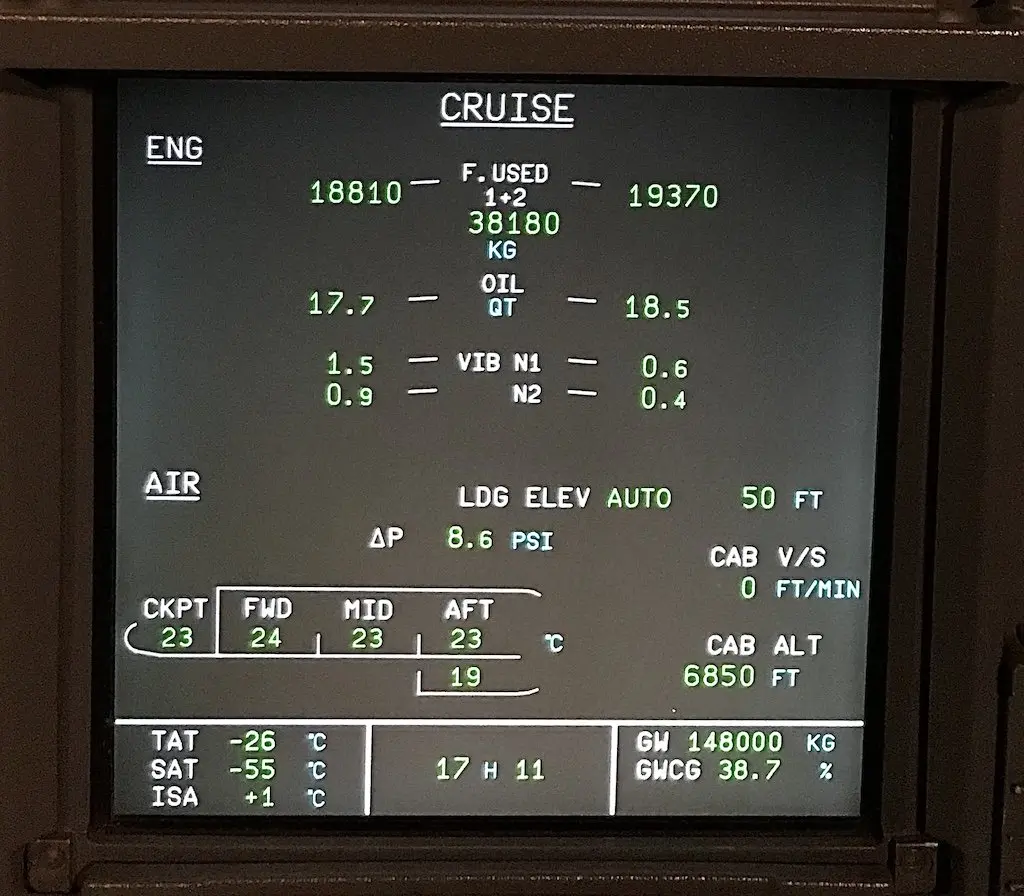 How ECAM and EICAS information is presented to the crew
On Airbus aircraft the upper screen (known as the Engine/Warning Display, or E/WD) is reserved mostly for displaying engine parameters together with flap position and relevant memos. 
The lower screen displays the System Display (SD) which allows pilots to cycle through all the relevant aircraft systems. On Airbus aircraft the System Display (SD screen) can be selected to show the following systems:
Engine
Bleed
Pressurization
Electrical – AC
Electrical – DC
C/Bs (Circuit Breakers)
Conditioning
Doors
Wheels
Flight Controls
The SD screen on can also display the Status (STS) screen, which is summary of any equipment failures or systems detected to be INOP (or inoperative) following a system failure.

What happens when an aircraft runs out of fuel.


Photo examples of ECAM on Airbus A330
What are ECAM memos?
The memos displayed depend on the phase of flight – for example the before take off "ECAM memo" ensures the aircraft is properly configured for take off.

The before takeoff ECAM memo is to checked to ensure the aircraft is correctly configured for take off: for example, the auto brake is set to max, the take off configuration has been checked and the flaps and spoilers are in the correct position.

Airbus Safety First: Takeoff Surveillance & Monitoring Functions


How do ECAM and EICAS enhance flight safety?
Historically, pilots had to manually scan each system, periodically checking each system on the overhead panel and on the instruments in the cockpit.

These days systems like ECAM and EICAS gather the vast amount of information in modern aircraft and displaying it to the pilots and in a clear and concise manner.

Additionally, the ability of these systems to not only alert pilots of system failures, but to present them with the actions required to deal with them, means pilots have greater ability to concentrate on the "big picture" while managing potentially complex situations.


ECAM Color Code
EICAS systems generally use 6 colors to present information: red, amber, green, white, blue and magenta. The meanings assigned to those colors are as follows:
| | |
| --- | --- |
| Color | Meaning |
| Red | Failure requiring immediate action. |
| Amber | Crew awareness; need not take immediate action. |
| Green | Item operating normally. |
| White | Titles/remarks to guide flight crew. |
| Blue | Actions to be carried out, or limitations |
| Magenta | Messages that apply to a particular piece of equipment/situation (e.g. inhibition messages) |
If you found this article interesting please take 5 seconds to share this on your favorite social media. Thanks so much, I really appreciate it! Pete@AviationMatters.co
FAQ Summary – ECAM and EICAS
What is the meaning of ECAM?
ECAM (Electronic Centralized Aircraft Monitor) is an electronic system on Airbus aircraft that monitors aircraft systems, warns of component failures and provides remedial guidance to flight crew.
What is the meaning of EICAS?
EICAS (Engine Indicating and Crew Alerting System) is an electronic system on Boeing (and other manufacturer's) aircraft that displays engine indications and warns of system failures.
What is the difference between ECAM and EICAS?
ECAM and EICAS are similar in that they are both electronic systems that monitor aircraft systems and alert pilots to system failures. The main difference is that while both systems display system information to pilots, ECAM will also list the actions required to deal with a failure. Once an action has been taken (making a selection on the overhead panel, for example) that action disappears from the list.
What is STS (Status) on Airbus aircraft?
Status (displayed as a white "STS" on the E/WD screen) provides an indication to pilots that the aircraft is operating in a reduced capability. Pressing the "STATUS" button on the ECAM control panel will display the Status Page on the lower ECAM screen, showing which system is degraded and other relevant information following a failure.
How do you pronounce ECAM?
ECAM is pronounced "Eee-Cam"
How do you pronounce EICAS?
EICAS is pronounced "Eye-Cas"
What is the meaning of EFIS in aviation?
EFIS (Electronic Flight Information System) displays are screens that are in front of the pilots and generally include the Primary Flight Display (PFD) and Navigation Display (ND).
The EFIS PFD displays primary flight indications to the pilots including speed, pitch, rate of climb, altitude, autopilot modes etc. The Navigation Display (also referred to as an HSI – Horizontal Situation Indicator) displays a top-down navigation display showing the location of the aircraft with respect to navigation fixes or radio aids, and also indicates heading, track, wind velocity etc.